Underworks Gift Card is an electronic gift card send it by email to you or the person you want to receive it.
How redeem your gift card?
Underworks Gift Card can be redeemed online at Underworks.com during the checkout process by applying your gift card code to your order.
Gift cards can be applied to your order by entering the code provided to you during the checkout process. E-gift card codes must be entered in the "Gift Card Number" space provided on the Payment page. Once the code has been entered, click the "GO" button. Your gift card balance will appear below. Enter the amount of the purchase you wish to pay by gift card into the box underneath and click "APPLY". The value of the gift card will be applied to your order.
We recommend you make a record of your e-gift card number when you receive it and store it in a safe place. We are not responsible for lost or stolen gift card numbers. If you have lost your gift card/e-gift card code, please call our Customer Service Center at 1-800-242-4224. Once your identity has been verified, we can provide the number again for you via email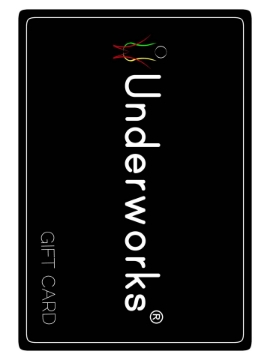 Gift Card Terms and Conditions
You can use the whole or partial amount of your Gift Card to pay for an order or part of an order. Gift Card balance is available for you to be redeemed by applying your gift card code at any time within a year. You can use your Underworks Gift Card as many times you like using the same code until balance reach $0.00. Underworks Gift Cards are not returnable or refundable for cash or check.
Back to Customer Service